This is a post in the series, My Minimalism. It's an ongoing tour of posts with photos sharing areas we have simplified, what minimalism currently looks like for us, and what it may look like for you. 
Minimalism will look different for all of us, and I think it's important we don't make stuff the focus of this journey. Minimalism is only a vehicle to remove the non-essential so that you can live a more intentional and meaningful life. So please, take my minimalism as just a drop in the bucket and create what works for YOU.
I have four young children, ages 3-11. I spent the first few years of motherhood unable to keep their stuff organized. As I began to de-own my excess stuff (and life), the burdens I allowed in my child's life became evident. I had enabled the clutter, busyness, and noise to invade their childhood and their bedrooms. I was setting them up to struggle, trapped in the endless cycle of taking care of too much stuff, just as I had.
Thankfully, I found a better way.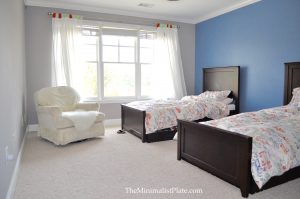 This is our three and four-year-old's bedroom. We made or 725th move nine months ago, and I haven't gotten around to hanging anything on the walls in their room. (And I don't feel bad about it at all.) We move often, and I never know how much wall space their new room will have.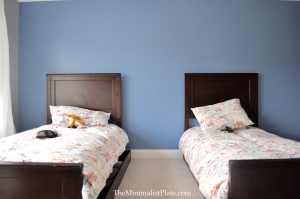 They each have a  trundle under their bed. One houses a spare bed and the other a few books and stuffed animals.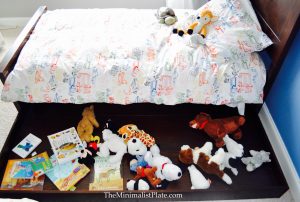 Their trundle pulled out with a few books and stuffed animals that they love! They do have other toys in the toy room.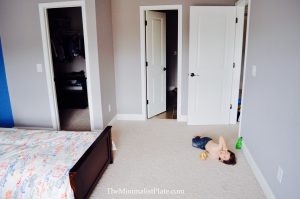 Here is our youngest enjoying the carpet space.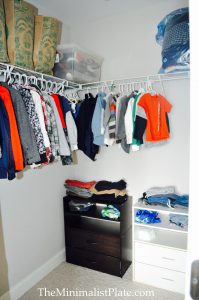 Here is their shared closet. The paper bags on the top left hold out of season/size clothing and the plastic bin contains their of season/size shoes. The blue bag is out of season clothing for my eight-year-old. You can see his bedroom here.
Related articles