Last year I shared my child's bedroom and many of you found it helpful to see storage solutions for clothing and toys. Since then our youngest outgrew his crib; so we did some bed switching amongst our four children and utilized a daybed we had for guests.
I thought you might like to see the room after the redo. And most of all, how minimalism can provide flexibility! Moving and reorganizing his items into a new space was really simple.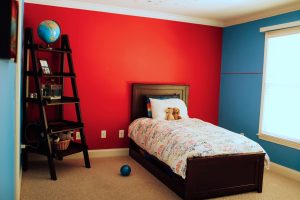 Above is what my son's bedroom looked like last year — before we switched beds and painted the walls. You can see the full bedroom photo tour here. The brown bed above is now in our toddlers' room.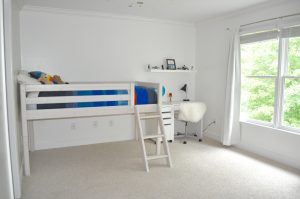 And here is what it looks like now. We switched out his bed, painted the room, and gave him a desk. We plan on hanging a few things on his wall but I wanted to share it with you beforehand — because I don't feel the need to make it perfect before I share it with you.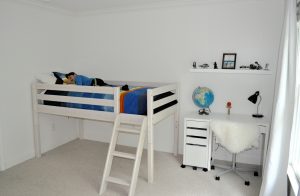 This was our daughter's bed (she now has the guest daybed). We purchased this bed from Flexa nine years ago in Hawaii. It can be converted into three different heights — from a regular height twin bed to a loft that our kids could walk under. What you see now is the middle height. Our son has loved turning the bottom into a fort! The desk is from Ikea. Personally, I don't care much for Ikea furniture. It doesn't hold up well like furniture made from solid wood.
My son saw me taking photos and wanted to hop in the picture too! He's pretending to sleep.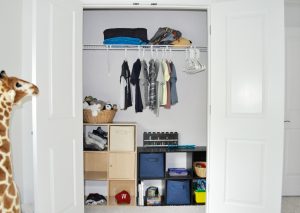 Here's his closet where his clothes and toys are kept. You can see how we stored his toys before. (in a trundle under his bed). Now all of his toys are stored in the dark shelf that we took from the playroom. Having less makes things so much easier! These shelves have come in handy with our many moves. We never know what kind of shelving or storage will be in our next home. Having less stuff and using these has made things easy to manage. All of his Legos that were in these bins are now in the two blue drawers. His folded clothes are on the tan shelf in his closet and his shirts are hung.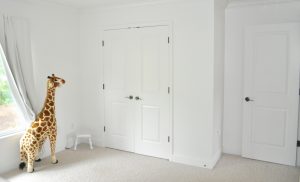 I hope you've found this post helpful to create practical minimalism that works for you!
Related Articles